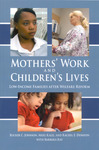 Publication Date
2-17-2010
DOI
10.17848/9781441644886
Abstract
This book examines the effects of work requirements imposed by welfare reform on low-income women and their families. The authors pay particular attention to the nature of work—whether it is stable or unstable, the number of hours worked in a week and the regularity and flexibility of work schedules. They also show how these factors make it more difficult for low-income women to balance their work and family requirements.
ISBN
9780880993586 (cloth) ; 9780880993562 (pbk.) ; 9781441644886 (ebook)
Subject Areas
UNEMPLOYMENT, DISABILITY, and INCOME SUPPORT PROGRAMS; Poverty and income support; Income support programs; Low wage labor markets; WORKFORCE DEVELOPMENT; Public training programs; Welfare to work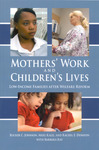 Included in
COinS
Citation
Johnson, Rucker C., Ariel Kalil, and Rachel E. Dunifon, (with Barbara Ray). 2010. Mothers' Work and Children's Lives: Low-Income Families after Welfare Reform. Kalamazoo, MI: W.E. Upjohn Institute for Employment Research. https://doi.org/10.17848/9781441644886
Creative Commons License


This work is licensed under a Creative Commons Attribution-NonCommercial-Share Alike 4.0 International License.