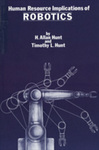 Publication Date
1-1-1983
DOI
10.17848/9780880995696
Abstract
The authors contend that the introduction of robots into the workplace is simply another stage in the long history of the automation of production, and that the effects will be evolutionary rather than revolutionary.
Files
Download 1. "The Robots are Coming" (1.5 MB)
ISBN
9780880990080 (pbk.) ; 9780880995696 (ebook)
Subject Areas
LABOR MARKET ISSUES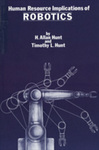 Included in
COinS
Citation
Hunt, H. Allan, and Timothy L. Hunt. 1983. Human Resource Implications of Robotics. Kalamazoo, MI: W.E. Upjohn Institute for Employment Research. https://doi.org/10.17848/9780880995696
Creative Commons License


This work is licensed under a Creative Commons Attribution-NonCommercial-Share Alike 4.0 International License.