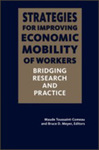 Publication Date
8-28-2009
DOI
10.17848/9781441631992
Abstract
The contributors to this book provide a provocative assessment of the effectiveness of various policies and practices designed to help disadvantaged segments of our population overcome the obstacles in their path to upward economic mobility.
Files
Download 1. Introduction / Maude Toussaint-Comeau and Bruce Meyer (266 KB)
Download 2. Bringing Together Policymakers, Researchers, and Practitioners to Discuss Strategies for Improving Economic Mobility / Maude Toussaint-Comeau (338 KB)
Download 3. Past Trends and Projections in Wages, Work, and Occupations in the United States / David Autor (286 KB)
Download 4. The Earned Income Tax Credit, Welfare Reform, and the Employment of Low-Skilled Single Mothers / Hilary Hoynes (314 KB)
Download 5. Reflections on Economic Mobility and Policy / Bruce D. Meyer (279 KB)
Download 6. Helping Low-Wage Workers Persist in Education Programs: Lessons from Research on Welfare Training Programs and Two Promising Community College Strategies / Lashawn Richburg-Hayes (299 KB)
Download 7. Financial Aid and Older Workers: Supporting the Nontraditional Student / Bridget Terry Long (291 KB)
Download 8. Can Residential Mobility Programs Improve Human Capital? Comparing Social Mechanisms in Two Different Programs / James Rosenbaum (309 KB)
Download 9. What Might Improve the Employment and Advancement Prospects of thePoor? / Harry J. Holzer (277 KB)
Download 10. What We Know about the Impacts of Workforce Investment Programs / Burt S. Barnow and Jeffrey A. Smith (284 KB)
Download 11. Correctional Programs in the Age of Mass Incarceration: What Do We Know about "What Works" / John H. Tyler and Jillian Berk (296 KB)
Download 12. Comparing Apples to Oranges When Evaluating Community-Based Programs and Services / Robert LaLonde (273 KB)
ISBN
9780880993531 (cloth) ; 9780880993524 (pbk.) ; 9781441631992 (ebook)
Subject Areas
LABOR MARKET ISSUES; Wages, health insurance and other benefits; Inequality; UNEMPLOYMENT, DISABILITY, and INCOME SUPPORT PROGRAMS; Poverty and income support; Low wage labor markets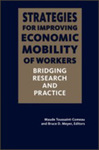 Included in
COinS
Citation
Toussaint-Comeau, Maude, and Bruce D. Meyer, eds. 2009. Strategies for Improving Economic Mobility of Workers: Bridging Research and Practice. Kalamazoo, MI: W.E. Upjohn Institute for Employment Research. https://doi.org/10.17848/9781441631992
Creative Commons License


This work is licensed under a Creative Commons Attribution-NonCommercial-Share Alike 4.0 International License.