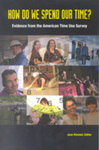 Publication Date
8-8-2008
DOI
10.17848/9781435667426
Abstract
This book offers contributions from a number of noted economists who use the American Time Use Survey to reveal findings that have numerous implications for the U.S. labor market. The authors examine topics such as child care, housework, household production and consumption, and shift work. In each case, the focus is on the value of time and how time spent on one activity instead of another represents value gained for the first activity and value lost for the second.
Files
Download Introduction / Jean Kimmel (424 KB)
Download 1. The Time of our Lives / Daniel S. Hamermesh (151 KB)
Download 2. The Value of Unpaid Child Care in the United States in 2003 / Nancy Folbre and Jayoung Yoon (213 KB)
Download 3. Does Housework Continue to Narrow the Income Gap?: The Impact of American Housework on Economic Inequality Over Time / Cathleen D. Zick and W. Keith Bryant (184 KB)
Download 4. Household Production, Consumption, and Retirement / Jennifer Ward-Batts (197 KB)
Download 5. The Time Use of Nonworking Men / Jay Stewart (216 KB)
Download 6. Day, Evening and Night Workers: A Comparison of What They Do in their Nonwork Hours and with Whom They Interact / Anne Polivka (152 KB)
ISBN
9780880993388 (cloth) ; 9780880993371 (pbk.) ; 9781435667426 (ebook)
Subject Areas
LABOR MARKET ISSUES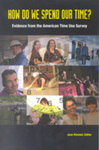 Included in
COinS
Citation
Kimmel, Jean, ed. 2008. How Do We Spend Our Time? Evidence from the American Time Use Study. Kalamazoo, MI: W.E. Upjohn Institute for Employment Research. https://doi.org/10.17848/9781435667426
Creative Commons License


This work is licensed under a Creative Commons Attribution-NonCommercial-Share Alike 4.0 International License.