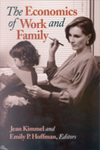 Publication Date
1-1-2002
DOI
10.17848/9780585469683
Abstract
Using an economic perspective, the contributors confront work/family issues including child care (potentially the biggest obstacle to parents successfully integrating work and family priorities), how parents balance time between work and family obligations, links between women's childbearing and their economic outcomes, the success of the Family and Medical Leave Act (FMLA), and the relationship between family structure and labor market outcomes. They also argue for specific policies designed to alleviate the stresses related to these issues.
Files
Download Introduction / Jean Kimmel (81 KB)
Download 1. Federal Child Care Policy / David M. Blau (193 KB)
Download 2. Thinking about Child Care Policy / Barbara R. Bergmann (151 KB)
Download 3. Parents' Work Time and the Family / Cordelia W. Reimers (244 KB)
Download 4. Fertility, Public Policy, and Mothers in the Labor Force / Susan L. Averett (156 KB)
Download 5. How Family Structure Affects Labor Market Outcomes / Joyce P. Jacobsen (156 KB)
Download 6. Working for All Families? / Katherin [sic] Ross Phillips (131 KB)
ISBN
9780880992466 (cloth) ; 9780880992459 (pbk.) ; 9780585469683 (ebook)
Subject Areas
EDUCATION; Early childhood; Childcare; LABOR MARKET ISSUES; Employment relationships; Nonstandard work arrangements; Work and family balance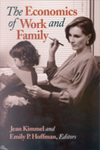 Included in
COinS
Citation
Kimmel, Jean, and Emily P. Hoffman, eds. 2002. The Economics of Work and Family. Kalamazoo, MI: W.E. Upjohn Institute for Employment Research. https://doi.org/10.17848/9780585469683
Creative Commons License


This work is licensed under a Creative Commons Attribution-NonCommercial-Share Alike 4.0 International License.