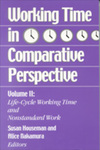 Upjohn Author ORCID Identifier
Publication Date
1-1-2001
DOI
10.17848/9780880992299
Abstract
The chapters explore an expanded set of working-time issues, which may be loosely grouped under two topics: 1) working time over the life cycle, and 2) nonstandard work arrangements (e.g., temporary work, job sharing and moonlighting).
Files
Download Introduction and Overview / Susan Houseman and Alice Nakamura (117 KB)
Download 1. The Life Cycle of Working Time in the United States and Canada / John D. Owen (180 KB)
Download 2. Perspectives on Working Time over the Life Cycle / Michael Wolfson and Geoff Rowe (242 KB)
Download 3. Adults Returning to School: Payoffs from Studying at a Community College / Duane E. Leigh and Andrew M. Gill (138 KB)
Download 4. Children's Effects on Women's Labor Market Attachment and Earnings / William E. Even and David A. Macpherson (241 KB)
Download 5. U.S. Health Policy and Mothers of Children with Disabilities / Janet Hunt-McCool (156 KB)
Download 6. Early Retirees of a Telecommunications Firm: Patterns of Employment and Working Time / Gangaram Singh and Anil Verma (136 KB)
Download 7. Working Time over the Life Cycle / Michael Baker and Dwayne Benjamin (237 KB)
Download 8. Self-Employment and Schedule Flexibility for Married Females / Theresa J. Devine (160 KB)
Download 9. Work Site and Work Hours / Linda N. Edwards and Elizabeth Field-Hendrey (196 KB)
Download 10. A Comparative Analysis of Moonlighting in Canada and the United States / Jean Kimmel and Lisa M. Powell (187 KB)
Download 11. Large Companies and the Changing Use of Temporary Workers / Shulamit Kahn, Fred Foulkes, and Jeffrey Heisler (145 KB)
Note
Papers presented at the conference on 'Changes in Working Time in Canada and the United States' which was held in Ottawa, Ontario, on June 13-15, 1996
ISBN
9780880992305 (cloth) ; 9780880992299 (pbk.) ; 9780880992299 (ebook)
Subject Areas
LABOR MARKET ISSUES; Employment relationships; Nonstandard work arrangements; Work and family balance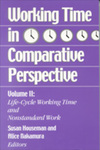 Included in
COinS
Citation
Houseman, Susan, and Alice Nakamura, eds. 2001. Working Time in Comparative Perspective. Vol. 2, Life-Cycle Working Time and Nonstandard Work. Kalamazoo, MI: W.E. Upjohn Institute for Employment Research. https://doi.org/10.17848/9780880992299
Creative Commons License


This work is licensed under a Creative Commons Attribution-NonCommercial-Share Alike 4.0 International License.