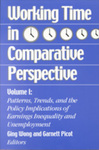 Publication Date
1-1-2001
DOI
10.17848/9780880992275
Abstract
The chapters in this volume focus on weekly hours worked by individuals, including the recent changes in the distribution of weekly working time in Canada and the United States, the implications of the changing distribution of hours worked for earnings inequality, and efforts to reduce unemployment through mandated hours reductions.
Files
Download Introduction and Overview/ Ging Wong and Garnett Picot (120 KB)
Download 1. The Changing Workweek / Mike Sheridan, Deborah Sunter, and Brent Diverty (159 KB)
Download 2. Trends in Hours of Work in the United States / Philip L. Rones, Jennifer M. Gardner, and Randy E. Ilg (283 KB)
Download 3. Working Hard / Linda Bell and Richard B. Freeman (325 KB)
Download 4. Working Time, Wages, and Earnings Inequality among Men and Women in Canada, 1981-1993 / Garnett Picot (218 KB)
Download 5. Patterns of Foregone Potential Earnings among Working-Age Males, 1975-1992 / Robert Haveman, Lawrence Buron, and Andrew Bershadker (172 KB)
Download 6. The Growth of Income and Employment Inequality in Australian Cities / R.G. Gregory and Boyd Hunter (201 KB)
Download 7. Supply of Hours per Day and Days per Week: Evidence from the Canadian Labour Market Activity Survey / Richard E. Mueller (203 KB)
Download 8. Hours Constraints / Kevin Lang and Shulamit Kahn (151 KB)
Download 9. Measuring the Effects of Short-Time Compensation on Workforce Dynamics / Karen Needels and Walter Nicholson (149 KB)
Download 10. Short-Time Work in the United States / Alec R. Levenson (186 KB)
Download 11. Economic Activities and the Demand for Work Sharing in Canada / Tom Siedule, Carol Guest, and Ging Wong (159 KB)
Note
Papers presented at the conference on 'Changes in Working Time in Canada and the United States' which was held in Ottawa, Ontario, on June 13-15, 1996
ISBN
9780880992282 (cloth) ; 9780880992275 (pbk.) ; 9780880992275 (ebook)
Subject Areas
LABOR MARKET ISSUES; Employment relationships; Nonstandard work arrangements; Work and family balance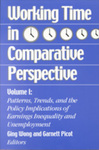 Included in
COinS
Citation
Wong, Ging, and Garnett Picot, eds. 2001. Working Time in Comparative Perspective: Volume I - Patterns, Trends, and the Policy Implications of Earnings Inequality and Unemployment. Kalamazoo, MI: W.E. Upjohn Institute for Employment Research. https://doi.org/10.17848/9780880992275
Creative Commons License


This work is licensed under a Creative Commons Attribution-NonCommercial-Share Alike 4.0 International License.