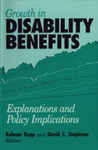 Publication Date
1-1-1998
DOI
10.17848/9780880995665
Abstract
This collection of original papers reveals why caseloads of the nation's two largest income entitlement programs for disability - Social Security Disability Income (SSDI) and Supplemental Security Income (SSI) - have soared.
Files
Download 1. Introduction / Kalman Rupp, David C. Stapleton (1.2 MB)
Download 2.Empirical Analysis of DI and SSI Application and Award Growth / David Stapleton, Kevin Coleman, Kimberly Dietrich, Gina Livermore Comments on Chapter 2 / Edward Yelin, Paul R. Cullinan, Richard G. Frank (4.0 MB)
Download 3. The Impact of Health Care Costs and Medicaid on SSI Participation / Aaron S. Yelowitz Comments on Chapter 3 / Barbara Wolfe (1.6 MB)
Download 4. Determinants of Duration on the Disability Rolls and Program Trends / Kalman Rupp and Charles G. Scott Comments on Chapter 4 / Daniel Mont (1.8 MB)
Download 5. Characteristics of SSI and DI Recipients in the Years Prior to Receiving Benefits / Mary C. Daly Comments on Chapter 5 / Daniel Mont, Virginia Reno (1.5 MB)
Download 6. The Growth in Disability Programs as Seen by SSA Field Office Managers / L. Scott Muller and Peter M. Wheeler (966 KB)
Download 7. The Ending of General Assistance and SSI Disability Growth in Michigan / John Bound, Sherrie Kossoudji, Gema Ricart-Moes (1.7 MB)
Download 8. Lessons from Case Studies of Recent Program Growth in Five States / Gina Livermore, David Stapleton, and Andrea Zeuschner Comments on Chapters 6, 7, 8 / Martha R. Burt, Barbara Henry Bordelon (1.8 MB)
Download 9. Growth in Federal Disability Programs and Implications for Policy / Gilbert Fisher and Melinda Upp (561 KB)
Download 10. The View from SSA's Philadelphia Regional Office / Larry Massanari (445 KB)
Download 10. The View from SSA's Concord, New Hampshire, District Office / Celeste Hemingson (384 KB)
Download 10. The View from Michigan's Office of Disability Determination / Charles Jones (438 KB)
Download 11. The Perspective of a Public Trustee / Stanford G. Ross (363 KB)
Download 11. Unsustainable Growth: Preserving Disability Programs for Americans with Disabilities / Andrew I. Batavia (777 KB)
Download 11. Policy Implications fo Recent Growth in Beneficiaries with Mental Illness / Howard H. Goldman (365 KB)
Download 11. Rethinking the Social Security Disability Programs: Causes and Options / Jane L. Ross (455 KB)
Download 11. Policy Changes to Improve Market Outcomes / Carolyn L. Weaver (464 KB)
Download 12. Return to Work for SSI and DI Beneficiaries: Employment Policy Challenges / Susan M. Daniels and Jane West (398 KB)
Download 12. Policies to Make Work Pay for People with Disabilities / Richard V. Burkhauser (483 KB)
Download 12. Private Sector Disability Management Activities and the Social Security Disability Program / Patricia M. Owens (298 KB)
Download 12. The Promise and Limitations fo Employment Policies for Current SSI Recipeints / Craig Thornton (868 KB)
Download 13. Summing Up: Reflections on the Past and Future of Disability Policy / Richard V. Burkhauser (923 KB)
Note
Papers based on the the conference in Washington, D.C. entitled: The Social Security Administration's Disability Programs: Explanations of Recent Growth and Implications for Disability Policy on July 20-21, 1995
ISBN
9780880991889 (cloth) ; 9780880991872 (pbk.) ; 9780880995665 (ebook)
Subject Areas
UNEMPLOYMENT, DISABILITY, and INCOME SUPPORT PROGRAMS; Workers compensation and disability; Disability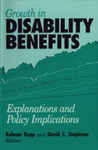 COinS
Citation
Rupp, Kalman, and David C. Stapleton, eds. 1998. Growth in Disability Benefits: Explanations and Policy Implications. Kalamazoo, MI: W.E. Upjohn Institute for Employment Research. https://doi.org/10.17848/9780880995665
Creative Commons License


This work is licensed under a Creative Commons Attribution-NonCommercial-Share Alike 4.0 International License.