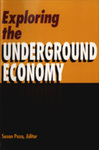 Publication Date
1-1-1996
DOI
10.17848/9780880994279
Abstract
Individually, the six contributors to this volume each provides a detailed examination of specific segments of the underground economy including its participants, attempts at measurement, and policy responses. Taken together, the essays offer a thorough overview that emphasizes the importance and magnitude of one of the largest economies in the world.
Files
Download 1. Introduction / Susan Pozo (350 KB)
Download 2. Overseas Holdings of U.S. Currency and the Underground Economy / Edgar L. Feige (3.1 MB)
Download 3. The Mismeasurement of Illegal Drug Markets / Peter Reuter (1.1 MB)
Download 4. The Supply of Youths to Crime / Richard B. Freeman (1.3 MB)
Download 5. Explaining Tax Compliance / James Alm (1.5 MB)
Download 6. Beating the System? / Ann Dryden Witte (1.0 MB)
Download 7. The Informal Economy / Alejandro Portes (1.1 MB)
Note
Six essays based on presentations made at the 30th annual Public Lecture Series sponsored by the Department of Economics at Western Michican University
Sponsorship
Financial support from W.E. Upjohn Institute for Employment Research and the College of Arts and Sciences of Western Michigan University
ISBN
9780880991667 (cloth) ; 9780880991650 (pbk.) ; 9780880994279 (ebook)
Subject Areas
LABOR MARKET ISSUES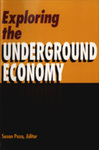 Included in
COinS
Citation
Pozo, Susan, ed. 1996. Exploring the Underground Economy: Studies of Illegal and Unreported Activity. Kalamazoo, MI: W.E. Upjohn Institute for Employment Research. https://doi.org/10.17848/9780880994279
Creative Commons License


This work is licensed under a Creative Commons Attribution-NonCommercial-Share Alike 4.0 International License.