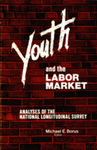 Publication Date
1-1-1984
DOI
10.17848/9780880996273
Abstract
Seven papers probe youth's relationship with the labor market.
Files
Download 1. Introduction and Summary / Michael E. Borus (702 KB)
Download 2. A Description of Employed and Unemployed Youth in 1981 / by Michael E. Borus (450 KB)
Download 3. Changes Over the 1970s in the Employment Patterns of Black and White Young Men / by Tom K. Pollard (261 KB)
Download 4. Choices in Education / Michael E. Borus and Susan A. Carpenter (326 KB)
Download 5. Quantity of Learning and Quality of Life for Public and Private High School Youth / William R. Morgan (527 KB)
Download 6. The Economic Value of Academic and Vocational Training Acquired in High School / Russell W. Rumberger and Thomas N. Daymont (422 KB)
Download 7. The Time-Use Behavior of Young Adults / Ronald D'Amico (588 KB)
Download 8. Delinquency and Employment / Joan E. Crowley (697 KB)
ISBN
9780880990165 (pbk.) ; 9780880996273 (ebook)
Subject Areas
EDUCATION; K-12 Education; Postsecondary education; Career and technical education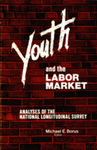 Included in
COinS
Citation
Borus, Michael E., ed. 1984. Youth and the Labor Market: Analyses of the National Longitudinal Survey. Kalamazoo, MI: W.E. Upjohn Institute for Employment Research. https://doi.org/10.17848/9780880996273
Creative Commons License


This work is licensed under a Creative Commons Attribution-NonCommercial-Share Alike 4.0 International License.