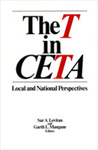 Publication Date
1-1-1981
DOI
10.17848/9780880996051
Abstract
The editors present a comprehensive study of training programs under CETA based on 11 case studies and national longitudinal data.
Files
Download 1. Summary of Findings and Recommendations / Sar A. Levitan and Garth L. Mangum (4.8 MB)
Download 2. A Review of CETA Training / Robert Taggart (600 KB)
Download 3. Baltimore, Maryland: The Rewards of Sound Management and Planning / Gregory Wurzburg (351 KB)
Download 4. Dallas, Texas: The Burdens of Prosperity / Robert McPherson (367 KB)
Download 5. Indianapolis, Indiana: Recovering from Troubles / E. Earl Wright (331 KB)
Download 6. Montgomery County, Maryland: A Born-Again Prime Sponsor / Marion W. Pines (332 KB)
Download 7. North Carolina Balance-Of-State: Decentralization and Discontinuity / Edward F. Dement (385 KB)
Download 8. Penobscot, Maine: Orientation for Change and Growth / Andrew M. Sum and Paul E. Harrington (353 KB)
Download 9. San Francisco, California: The Politics of Race and Sex / Garth L. Mangum (269 KB)
Download 10. Seattle, Washington: A CBO Delivery System / R. Thayne Robson (257 KB)
Download 11. Tucson, Arizona: Orchestrated Decentralization / Garth L. Mangum (276 KB)
Download 12. Utah: The Perils of Pioneering / R. Thayne Robson (292 KB)
Download 13. Worchester, Massachusetts: Decentralization in a Tight Labor Market / Morris A. Horowitz and Joanne Loscalzo (264 KB)
Note
Complete case studies published in CETA training: a national review and eleven case studies; Study conducted under the auspices of the National Council on Employment Policy
Sponsorship
Study funded by the Edna McConnell Clark, Ford, Charles Stewart Mott and Rockefeller Foundations; National Council on Employment Policy
ISBN
9780911558937 (pbk.) ; 9780880996051 (ebook)
Subject Areas
WORKFORCE DEVELOPMENT; Public training programs; WIA, JTPA, and CETA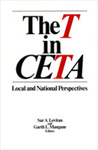 Included in
COinS
Citation
Levitan, Sar A., and Garth L. Mangum, eds. 1981. The T in CETA Local and National Perspectives. Kalamazoo, MI: W.E. Upjohn Institute for Employment Research. https://doi.org/10.17848/9780880996051
Creative Commons License


This work is licensed under a Creative Commons Attribution-NonCommercial-Share Alike 4.0 International License.