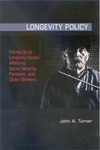 Publication Date
1-1-2011
DOI
10.17848/9780880993999
Abstract
Turner argues that public policy should recognize longevity policy as a distinct policy area. Rather than separately treating issues raised by life expectancy (e.g., Social Security, pensions, older workers), a unified approach should be developed that recognizes their interrelationship.
ISBN
9780880993784 (cloth) ; 9780880993777 (pbk.) ; 9780880993999 (ebook)
Subject Areas
LABOR MARKET ISSUES; Retirement and pensions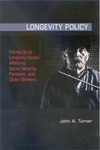 Included in
COinS
Citation
Turner, John A. 2011. Longevity Policy: Facing Up to Longevity Issues Affecting Social Security, Pensions, and Older Workers. Kalamazoo, MI: W.E. Upjohn Institute for Employment Research. https://doi.org/10.17848/9780880993999
Creative Commons License


This work is licensed under a Creative Commons Attribution-NonCommercial-Share Alike 4.0 International License.