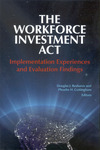 Publication Date
1-1-2011
DOI
10.17848/9780880994026
Abstract
This volume examines WIA's objectives and the evidence on program performance and impact. The chapters are organized into five general areas: 1) understanding WIA, 2) program implementation, 3) performance management, 4) impact evaluations, and 5) future evaluation choices.
Files
Download 1. Introduction / Phoebe H. Cottingham and Douglas J. Besharov (320 KB)
Download 2. An Overview of WIA / Dianne Blank, Laura Heald, and Cynthia Fagnoni (365 KB)
Download 3. The Use of Market Mechanisms / Christopher T. King and Burt S. Barnow (246 KB)
Download 4. Customized Training / David A. Long (240 KB)
Download 5.One-Stop Management and the Private Sector / David Heaney (194 KB)
Download 6. Eligible Training Provider Lists and Consumer Report Cards / Carl E. Van Horn and Aaron Fichtner (209 KB)
Download 7. The Challenges of Measuring Performance / William S. Borden (234 KB)
Download 8. Lessons from the WIA Performance Measures / Burt S. Barnow (217 KB)
Download 9. Recent Advances in Performance Measurement of Federal Workforce Development Programs / Randall W. Eberts, Timothy J. Bartik, and Wei-Jang Huang (340 KB)
Download 10. Financial Performance Incentives / Stephen A. Wandner and Michael Wiseman (301 KB)
Download 11. Ten Years of WIA Research / Paul T. Decker (293 KB)
Download 12. Short-Term Net Impact Estimates and Rates of Return / Kevin Hollenbeck (308 KB)
Download 13. A Nonexperimental Evaluation of WIA Programs / Carolyn J. Heinrich, Peter R. Mueser, Kenneth R. Troske, Kyung-Seong Jeon, and Daver C. Kahvecioglu (462 KB)
Download 14. Nonexperimental Impact Evaluations / Haeil Jung and Maureen A. Pirog (239 KB)
Download 15. Designing Reliable Impact Evaluations / Larry L. Orr, Stephen H. Bell, and Jacob A. Klerman (298 KB)
Download 16. Neither Easy Nor Cheap / Sheena McConnell, Peter Schochet, and Alberto Martini (219 KB)
Download 17. Improving Impact Evaluation in Europe / Jeffrey Smith (226 KB)
ISBN
9780880993715 (cloth) ; 9780880993708 (pbk.) ; 9780880994026 (ebook)
Subject Areas
WORKFORCE DEVELOPMENT; Public training programs; WIA, JTPA, and CETA; On the job training; Incumbent worker training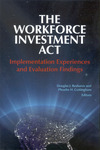 Included in
COinS
Citation
Besharov, Douglas J. and Phoebe H. Cottingham, eds. 2011. The Workforce Investment Act: Implementation Experiences and Evaluation Findings. Kalamazoo, MI: W.E. Upjohn Institute for Employment Research. https://doi.org/10.17848/9780880994026
Creative Commons License


This work is licensed under a Creative Commons Attribution-NonCommercial-Share Alike 4.0 International License.