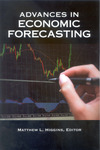 Publication Date
1-1-2011
DOI
10.17848/9780880993937
Abstract
This book's contributors assess the performance of economic forecasting methods, argue that data can be better exploited through model and forecast combination, and advocate for models that are adaptive and perform well in the presence of nonlinearity and structural change. The contributors are: Michael D. Bradley, Dean Croshure, Dennis W. Jansen, Kajal Lahiri, Tae-Hwy Lee, David E. Rapach, and H.O. Stekler
Files
Download Epub version (6.2 MB)
Download 1. Advances in Economic Forecasting / Matthew L. Higgins (205 KB)
Download 2. Real-Time Forecasting / Dean Croushore (267 KB)
Download 3. Limits to Economic Forecasting / Kajal Lahiri (318 KB)
Download 4. Forecasting Regional and Industry-Level Variables / David E. Rapach (212 KB)
Download 5. Forecasting Asset Prices Using Nonlinear Models / Michael D. Bradley and Dennis W. Jansen (888 KB)
Download 6. Perspectives on Evaluating Macroeconomic Forecasts / H.O. Stekler (315 KB)
Download 7. Combining Forecasts with Many Predictors / Tae-Hwy Lee (289 KB)
Note
The chapters in this volume are based on lectures from the forty-sixth Werner Sichel Lecture Series in 2009-2010 at Western Michigan University.
ISBN
9780880993845 (cloth) ; 9780880993838 (pbk.) ; 9780880993937 (book)
Subject Areas
ECONOMIC DEVELOPMENT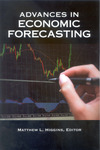 Included in
COinS
Creative Commons License


This work is licensed under a Creative Commons Attribution-Noncommercial-Share Alike 4.0 License.