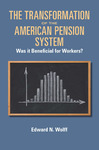 Publication Date
1-1-2011
DOI
10.17848/9780880993906
Abstract
The share of Americans with defined contribution pension plans now exceeds the share of those with defined benefit plans. Wolff refers to this as the "great transformation" and it leads him to examine recent evidence to see whether there are winners and losers resulting from this switch away from traditional pension plans.
ISBN
9780880993807 (cloth) ; 9780880993791 (pbk.) ; 9780880993906 (ebook)
Subject Areas
LABOR MARKET ISSUES; Retirement and pensions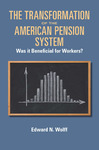 Included in
COinS
Citation
Wolff, Edward N. 2011. The Transformation of the American Pension System: Was It Beneficial for Workers? Kalamazoo, MI: W.E. Upjohn Institute for Employment Research. https://doi.org/10.17848/9780880993906
Creative Commons License


This work is licensed under a Creative Commons Attribution-NonCommercial-Share Alike 4.0 International License.