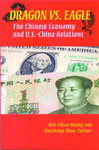 Publication Date
1-1-2012
DOI
10.17848/9780880994057
Abstract
This book contains a group of papers that examine the complex and evolving economic relationship between China and the United States.
Files
Download Epub version (4.9 MB)
Download 1. Introduction / Wei-Chiao Huang and Huizhong Zhou (278 KB)
Download 2. U.S.-China Economic Relations and Value Chains in Global Production Networks / Robert B. Koopman (530 KB)
Download 3. China's Economy from an American's Perspective / Gene H. Chang (401 KB)
Download 4. Winners and Losers in China's Economic Reform / Terry Sicular (370 KB)
Download 5. Changes in the World's Workshop / Mary Gallagher (351 KB)
Download 6. Left Behind in Old Age? / John Giles (532 KB)
Download 7. China in 2049 / Zhiwu Chen (288 KB)
Note
The chapters in this volume are based on lectures from the forty-seventh Werner Sichel Lecture Series in 2010-2011 at Western Michigan University.
Sponsorship
W.E. Upjohn Institute, Timothy Light Center for Chinese Studies
ISBN
9780880994040 (cloth) ; 9780880994033 (pbk.) ; 9780880994057 (ebook)
Subject Areas
INTERNATIONAL ISSUES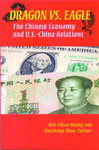 Included in
COinS
Citation
Huang, Wei-Chiao and Huizhong Zhou, eds. 2012. Dragon versus Eagle: The Chinese Economy and U.S.-China Relations. Kalamazoo, MI: W.E. Upjohn Institute for Employment Research. https://doi.org/10.17848/9780880994057
Creative Commons License


This work is licensed under a Creative Commons Attribution-NonCommercial 4.0 International License