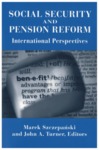 Publication Date
1-1-2014
DOI
10.17848/9780880994705
Abstract
Countries around the world are reforming their social security and pension systems. International studies often focus on social security reforms in Europe and North America, and may include Latin America. Reforms, however, are also occurring in Asia and Africa, and include reforms of voluntary and employer-provided pensions as well as social security programs. This book discusses both social security and employer-provided pension reforms, as well as reforms in most regions of the world.
Files
Download Epub version (5.1 MB)
Download 1. Social Security and Pension Reform / Marek Szczepański and John A. Turner (618 KB)
Download 2. Social Security and Pension Trends around the World / John A. Turner and David Rajnes (608 KB)
Download 3. Have Personal Retirement Savings Accounts Achieved Their Objectives in Ireland? / Gerard Hughes (742 KB)
Download 4. Social Security and Pension Income in Sweden / Gabriella Sjögren Lindquist and Eskil Wadensjö (640 KB)
Download 5. The Reform of Social Security Pensions in Portugal / Maria Clara Murteira (618 KB)
Download 6. The Norwegian Government Pension Fund as an Investor in Global Markets / Magdalena Mosionek-Schweda (716 KB)
Download 7. Pension Reforms in Central and Eastern European Countries, 1998–2012 / Maciej Żukowski (665 KB)
Download 8. Pension Reform and the Measurement of Risk in Occupational Pension Plans in Poland / Marek Szczepański and Tomasz Brzęczek (751 KB)
Download 9. Australian Pensions / Ross Clare (623 KB)
Download 10. Social Security Reform in China / Tianhong Chen and John A. Turner (541 KB)
Download 11. Social Security and Pensions in East Africa / John A. Turner (576 KB)
Download 12. The Efficiency of Defined Contribution Pension Plans in the Americas / Denise Gómez-Hernández and Alberto M. Ramírez de Jurado Frías (633 KB)
Download 13. Pension Fund Governance / Adam Samborski (667 KB)
Download 14. Financial Literacy, Education, and Advice / John A. Turner and Dana M. Muir (562 KB)
ISBN
9780880994682 (cloth) ; 9780880994675 (pbk.) ; 9780880994705 (ebook)
Subject Areas
LABOR MARKET ISSUES; Retirement and pensions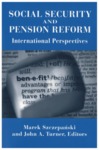 Included in
COinS
Citation
Szczepański, Marek and John A. Turner, eds. 2014. Social Security and Pension Reform: International Perspectives. Kalamazoo, MI: W.E. Upjohn Institute for Employment Research. https://doi.org/10.17848/9780880994705
Creative Commons License


This work is licensed under a Creative Commons Attribution-NonCommercial-Share Alike 4.0 International License.