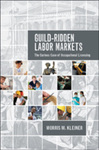 Publication Date
1-1-2015
DOI
10.17848/9780880995023
Abstract
In his third Upjohn Press book on occupational licensing, Morris M. Kleiner examines why the institution of occupational licensing has had such a curious evolution and influence in the United States, the European Union, and China. He also discusses the many similarities it has to guilds.
ISBN
9780880995016 (pbk.) ; 9780880995016 (ebook)
Subject Areas
LABOR MARKET ISSUES; Occupational regulation and licensing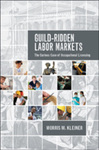 Included in
COinS
Citation
Kleiner, Morris M. 2015. Guild-Ridden Labor Markets: The Curious Case of Occupational Licensing. Kalamazoo, MI: W.E. Upjohn Institute for Employment Research. https://doi.org/10.17848/9780880995023
Creative Commons License


This work is licensed under a Creative Commons Attribution-NonCommercial-Share Alike 4.0 International License.