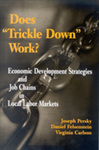 Publication Date
1-1-2004
DOI
10.17848/9781417549986
Abstract
Persky, Felsenstein, and Carlson explore a new framework for evaluating state and local economic development efforts. They propose a method, referred to as the "job-chains approach," that they say clarifies the potential justifications for economic development subsidies as well as the limitations surrounding these efforts. This innovative approach addresses not only the number of job vacancies created as a result of a subsidized business investment or expansion, but also the extent to which gains are achieved by the unemployed and the underemployed, whether skilled or unskilled.
ISBN
9780880993098 (cloth) ; 9780880993081 (pbk.) ; 9781417549986 (ebook)
Subject Areas
LABOR MARKET ISSUES; Job security and unemployment dynamics; ECONOMIC DEVELOPMENT; Local labor markets; Regional policy and planning; Business and tax incentives; Urban issues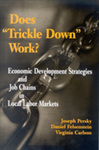 COinS
Citation
Persky, Joseph, Daniel Felsenstein, and Virgina Carlson. 2004. Does "Trickle Down" Work?: Economic Development Strategies and Job Chains in Local Labor Markets. Kalamazoo, MI: W.E. Upjohn Institute for Employment Research. https://doi.org/10.17848/9781417549986
Creative Commons License


This work is licensed under a Creative Commons Attribution-NonCommercial-Share Alike 4.0 International License.