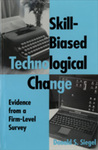 Publication Date
1-1-1999
DOI
10.17848/9780585341651
Abstract
Siegel provides evidence that technology adoption is associated with downsizing, skill upgrading, greater employee empowerment, and a widening wage gap. Unlike previous studies that use industry-level data, Siegel collected firm-level data on technology usage and labor composition which enable him to link the magnitude of labor market outcomes for six classes of workers to the types of technologies implemented.
ISBN
9780880991988 (cloth) ; 9780880991971 (pbk.) ; 9780585341651 (ebook)
Subject Areas
WORKFORCE DEVELOPMENT; Job skills and standards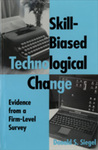 Included in
COinS
Citation
Siegel, Donald S. 1999. Skill-Biased Technological Change: Evidence from a Firm-Level Survey. Kalamazoo, MI: W.E. Upjohn Institute for Employment Research. https://doi.org/10.17848/9780585341651
Creative Commons License


This work is licensed under a Creative Commons Attribution-NonCommercial-Share Alike 4.0 International License.