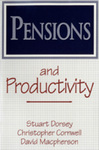 Publication Date
1-1-1998
DOI
10.17848/9780585277417
Abstract
Employers typically view their investment in pension plans as a means of providing retirement income for their workers. Economists, on the other hand, view pension programs as a way to increase workplace productivity. Dorsey, Cornwell and Macpherson explore the theoretical and empirical basis for this perspective and, in the process, offer a complete and up-to-date discussion on the productivity theory of pensions.
Files
Download 1. Pensions and the Labor Market (731 KB)
ISBN
9780880991865 (cloth) ; 9780880991858 (pbk.) ; 9780585277417 (ebook)
Subject Areas
LABOR MARKET ISSUES; Retirement and pensions; Wages, health insurance and other benefits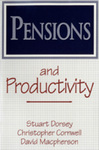 Included in
COinS
Citation
Dorsey, Stuart, Christopher Cornwell, and David Macpherson. 1998. Pensions and Productivity. Kalamazoo, MI: W.E. Upjohn Institute for Employment Research. https://doi.org/10.17848/9780585277417
Creative Commons License


This work is licensed under a Creative Commons Attribution-NonCommercial-Share Alike 4.0 International License.