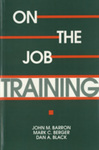 Title
Publication Date
1-1-1997
DOI
10.17848/9780585262369
Abstract
Firms in the U.S. invest billions of dollars annually in workforce training. Growing evidence of the effects of this training on worker productivity, wages, hiring and turnover has led researchers to gradually incorporate the role of training into their analyses. Barron, Berger and Black advance this line of research by offering new evidence on the amount of training provided to workers during the first three months on the job, and the characteristics of those workers who received that training.
ISBN
9780880991780 (cloth) ; 9780880991759 (pbk.) ; 9780585262369 (ebook)
Subject Areas
WORKFORCE DEVELOPMENT; On the job training; Employer provided training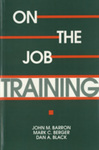 Included in
COinS
Creative Commons License


This work is licensed under a Creative Commons Attribution-NonCommercial-Share Alike 4.0 International License.