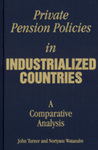 Publication Date
1-1-1995
DOI
10.17848/9780880995320
Abstract
In this comprehensive review of private pension systems in effect world-wide, Turner and Watanabe discuss the fundamental issues facing nations as they adopt and expand private pension systems. Specific policies in effect in several private pension systems are analyzed including those in nations dominating world pension assets (Japan, Germany, the U.K., and the U.S.), as is the country whose system is widely regarded as the model for developing nations, Chile. Turner and Watanabe also provide a compendium on the worldwide trends influencing pension systems and their implications for pension policy.
Files
Download 1. The Trend Toward Private Pensions (651 KB)
Sponsorship
Financial support from the Franco-American Commission for Educational Exchange and the Commission for the International Exchange of Scholars
ISBN
9780880991506 (cloth) ; 9780880991490 (pbk.) ; 9780880995320 (ebook)
Subject Areas
LABOR MARKET ISSUES; Retirement and pensions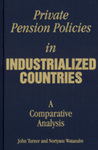 Included in
COinS
Citation
Turner, John A., and Noriyasu Watanabe. 1995. Private Pension Policies in Industrialized Countries: A Comparative Analysis. Kalamazoo, MI: W.E. Upjohn Institute for Employment Research. https://doi.org/10.17848/9780880995320
Creative Commons License


This work is licensed under a Creative Commons Attribution-NonCommercial-Share Alike 4.0 International License.