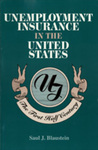 Publication Date
1-1-1993
DOI
10.17848/9780585183442
Abstract
Blaustein offers the definitive summary of the U.S. unemployment insurance system. This is the first of a two-volume update of Haber and Murray's Unemployment Insurance in the American Economy.
Files
Download 1. The Changing Unemployment Problem and Its Implications for Unemployment Insurance (2.4 MB)
Note
Updated ed. of: Unemployment insurance in the American economy / William Haber and Merrill G. Murray. 1966
ISBN
9780880991360 (cloth) ; 9780880991353 (pbk.) ; 9780585183442 (ebook)
Subject Areas
UNEMPLOYMENT, DISABILITY, and INCOME SUPPORT PROGRAMS; Unemployment insurance; Benefits and duration; Benefit financing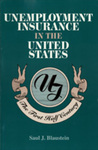 Included in
COinS
Citation
Blaustein, Saul J. 1993. Unemployment Insurance in the United States: The First Half Century. Kalamazoo, MI: W.E. Upjohn Institute for Employment Research. https://doi.org/10.17848/9780585183442
Creative Commons License


This work is licensed under a Creative Commons Attribution-Noncommercial-Share Alike 4.0 License.