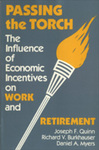 Publication Date
1-1-1990
DOI
10.17848/9780880994996
Abstract
This book summarizes research on individual retirement decisions and aggregate retirement trends. It also serves as an excellent reference source on the economics of retirement.
Files
Download 1. Introduction and Overview (2.0 MB)
ISBN
9780880990929 (pbk.) ; 9780880994996 (ebook)
Subject Areas
LABOR MARKET ISSUES; Retirement and pensions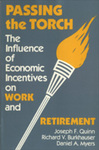 Included in
COinS
Citation
Quinn, Joseph F., Richard V. Burkhauser, and Daniel A. Myers. 1990. Passing the Torch: The Influence of Economic Incentives on Work and Retirement. Kalamazoo, MI: W.E. Upjohn Institute for Employment Research. https://doi.org/10.17848/9780880994996
Creative Commons License


This work is licensed under a Creative Commons Attribution-NonCommercial-Share Alike 4.0 International License.