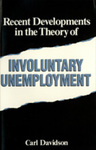 Publication Date
1-1-1990
DOI
10.17848/9780880995931
Abstract
This monograph provides a relatively nontechnical summary of the prominent theories of unemployment that have emerged since 1960: search, disequilibrium, implicit contracts, efficiency wage, and insider/outsider models. Davidson focuses on the overall purpose of each line of research, reviewing selected articles on each of the theories. He then offers clear descriptions that make the topics readily accessible to both students and nonspecialists.
ISBN
9780880991063 (pbk.)
Subject Areas
LABOR MARKET ISSUES; Job security and unemployment dynamics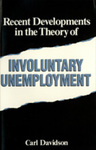 Included in
COinS
Citation
Davidson, Carl. 1990. Recent Developments in the Theory of Involuntary Unemployment. Kalamazoo, MI: W.E. Upjohn Institute for Employment Research. https://doi.org/10.17848/9780880995931
Creative Commons License


This work is licensed under a Creative Commons Attribution-NonCommercial-Share Alike 4.0 International License.