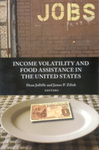 Publication Date
10-31-2008
DOI
10.17848/9781435684126
Abstract
This book provides a much-needed look at recent trends in income volatility and its effects on the design of and participation in the nation's food assistance programs.
Files
Download 1. Introduction / Dean Jolliffe and James P. Ziliak (242 KB)
Download 2. Trends in income and consumption volatility, 1970-2000 / Benjamin J. Keys (364 KB)
Download 3. Variable effects of earnings volatility on food stamp participation / Robert Moffitt and David C. Ribar (307 KB)
Download 4. Earnings volatility and the reasons for leaving the food stamp program / David C. Ribar and Marilyn Edelhoch (348 KB)
Download 5. The dynamics of food stamp receipt after welfare reform among current and former welfare recipients / Brian Cadena, Sheldon Danziger, and Kristin Seefeldt (341 KB)
Download 6. Income volatility and its implication for school lunch / Constance Newman (374 KB)
Download 7.The age gradient in food stamp program participation : does income volatility matter? / Craig Gundersen and James P. Ziliak (489 KB)
Download 8. Design of assistance programs to address real income volatility / Robin Broadway, Katherine Cuff, and Nicolas Marceau (436 KB)
Download 9. Income volatility and certification duration for WIC children / Mark A. Prell (421 KB)
ISBN
9780880993364 (cloth) ; 9780880993357 (pbk.) ; 9781435684126 (ebook)
Subject Areas
UNEMPLOYMENT, DISABILITY, and INCOME SUPPORT PROGRAMS; Poverty and income support; Income support programs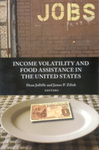 Included in
COinS
Citation
Jolliffe, Dean, and James P. Ziliak, eds. 2008. Income Volatility and Food Assistance in the United States. Kalamazoo, MI: W.E. Upjohn Institute for Employment Research. https://doi.org/10.17848/9781435684126
Creative Commons License


This work is licensed under a Creative Commons Attribution-NonCommercial-Share Alike 4.0 International License.