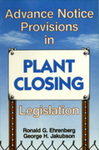 Publication Date
1-1-1988
DOI
10.17848/9780880995344
Abstract
After summarizing the theoretical arguments for and against plant closing legislation, the authors present results of empirical analyses, based on the Bureau of Labor Statistics Survey of Displaced Workers and other data sources, that show that having advance notice appears to reduce the probability that a displaced worker will suffer any spell of unemployment.
Note
Findings discussed in seminars at Cornell University, the National Bureau of Economic Research and the Upjohn Institute and in a paper presented at the American Economic Association meeting, December 1987
Sponsorship
Grants from the National Science Foundation Economics Program and the W.E. Upjohn Institute for Employment Research
ISBN
9780880990707 (pbk.) ; 9780880995344 (ebook)
Subject Areas
LABOR MARKET ISSUES; Job security and unemployment dynamics; Dislocated workers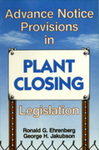 Included in
COinS
Citation
Ehrenberg, Ronald G., and George H. Jakubson. 1988. Advance Notice Provisions in Plant Closing Legislation. Kalamazoo, MI: W.E. Upjohn Institute for Employment Research. https://doi.org/10.17848/9780880995344
Creative Commons License


This work is licensed under a Creative Commons Attribution-NonCommercial-Share Alike 4.0 International License.