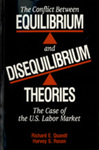 Publication Date
1-1-1988
DOI
10.17848/9780880995405
Abstract
A fundamental controversy in labor economics is whether unemployment is better viewed as an equilibrium or disequilibrium phenomenon. The authors contend that answers to policy problems related to unemployment will depend on which of the two characterizations of the labor market is accepted. They note the effects of inflation, taxes, and unionization on unemployment and describe those factors' effects on the equilibrium/disequilibrium question by presenting both equilibrium and disequilibrium models of the U.S. labor market.
ISBN
9780880990608 (pbk.) ; 9780880995405 (ebook)
Subject Areas
UNEMPLOYMENT, DISABILITY, and INCOME SUPPORT PROGRAMS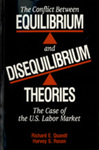 Included in
COinS
Citation
Quandt, Richard E., and Harvey S. Rosen. 1988. The Conflict Between Equilibrium and Disequilibrium Theories: The Case of the U.S. Labor Market. Kalamazoo, MI: W.E. Upjohn Institute for Employment Research. https://doi.org/10.17848/9780880995405
Creative Commons License


This work is licensed under a Creative Commons Attribution-NonCommercial-Share Alike 4.0 International License.