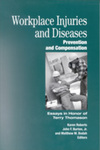 Publication Date
8-16-2005
DOI
10.17848/9781429454919
Abstract
This book presents a set of essays from a group of leading scholars that provides a detailed overview of what is known about the disability insurance system while highlighting areas of the system that beg for greater understanding.
Files
Download 1. Introduction / Karen Roberts (291 KB)
Download 2. Economic Incentives and Workplace Safety / Terry Thomason (330 KB)
Download 3. The Adequacy of Workers' Compensation Cash Benefits / Leslie I. Boden, Robert T. Reville, and Jeff Biddle (788 KB)
Download 4. Permanent Partial Disability Benefits / John F. Burton, Jr. (386 KB)
Download 5. Issues in Workers' Compensation Appeals System Reform / Douglas E. Hyatt (320 KB)
Download 6. Performance Measurement in Workers' Compensation Systems / H. Allan Hunt (375 KB)
Download 7. The Structure of and Incentives from Workers' Compensation Pricing / Karen Roberts (329 KB)
Download 8. Health Care and Workers' Compensation / Cameron Mustard and Sandra Sinclair (314 KB)
Download 9. How Can Behavioral Economics Inform Research on Workplace Injuries? / Seth A. Seabury, Robert T. Reville, Hilary J. Rhodes, and Leslie I. Boden (347 KB)
Download 10. Revisiting Black Lung: Can the Feds Deliver Workers' Compensation for Occupational Disease? / Peter S. Barth (316 KB)
Download 11. Workers' Compensation in Rhode Island: Reform through Business/Labor Cooperation / Matthew Carey (281 KB)
Note
Papers from a conference entitled "Workers' Compensation: Current and Emerging Issues" held at the University of Rhode Island on March 27, 2004 to honor the former director of URI's Schmidt Labor Research Center
ISBN
9780880993241 (pbk.) ; 9781429454919 (ebook)
Subject Areas
UNEMPLOYMENT, DISABILITY, and INCOME SUPPORT PROGRAMS; Workers compensation and disability; Benefits and financing; Disability; Occupational health and safety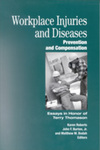 Included in
COinS
Citation
Roberts, Karen, John F. Burton Jr., and Matthew M. Bodah, eds. 2005. Workplace Injuries and Diseases: Prevention and Compensation - Essays in Honor of Terry Thomason. Kalamazoo, MI: W.E. Upjohn Institute for Employment Research. https://doi.org/10.17848/9781429454919
Creative Commons License


This work is licensed under a Creative Commons Attribution-NonCommercial-Share Alike 4.0 International License.