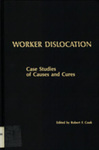 Publication Date
1-1-1987
DOI
10.17848/9780880996181
Abstract
This book describes various projects to assist dislocated workers under Title III of the JTPA, and offers lessons on what has and hasn't worked.
Files
Download 1. Introduction / Robert F. Cook (219 KB)
Download 2. The Cummins Engine Company Dislocated Worker Project / Duane L. Sorensen (252 KB)
Download 3. The GM-UAW Metropolitan Pontiac Retraining and Employment Program (PREP) / H. Allan Hunt (267 KB)
Download 4. The Minnesota Iron Range Dislocated Worker Project / Lawrence A. Wohl (385 KB)
Download 5. The Missouri Dislocated Worker Program Job Search Assistance, Inc. / E. Allan Tomey (328 KB)
Download 6. The Hillsborough, North Carolina Dislocated Worker Project / Wayne M. Turnage (294 KB)
Download 7. The Cleveland, Ohio United Labor Agency Dislocated Worker Project / Paul R. Dommel (271 KB)
Download 8. The Houston Community College-Texas Employment Commission Dislocated Worker Project / Susan A. MacManus (354 KB)
Download 9. The Tacoma, Washington ASARCO Copper Smelter Dislocated Worker Project / David R. Knowles (371 KB)
Download 10. The Dane County, Wisconsin Dislocated Worker Project / Andrew Cohn and Kathleen McElroy (330 KB)
Download 11. Findings and Conclusions / Robert F. Cook (331 KB)
Note
Prepared with assistance from the Office of Research and Evaluation of the Employment and Training Administration, U.S. Department of Labor, under contract No. 99-3-0584-75-104-01
ISBN
9780880990523 (pbk.) ; 9780880996181 (ebook)
Subject Areas
LABOR MARKET ISSUES; Job security and unemployment dynamics; Dislocated workers; WORKFORCE DEVELOPMENT; Public training programs; WIA, JTPA, and CETA; On the job training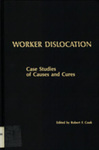 Included in
COinS
Citation
Cook, Robert F., ed. 1987. Worker Dislocation: Case Studies of Causes and Cures. Kalamazoo, MI: W.E. Upjohn Institute for Employment Research. https://doi.org/10.17848/9780880996181
Creative Commons License


This work is licensed under a Creative Commons Attribution-NonCommercial-Share Alike 4.0 International License.