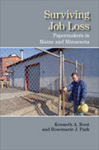 Publication Date
1-1-2016
DOI
10.17848/9780880995085
Abstract
Root and Park examine the plight of long-tenured workers displaced from two paper mills—their paths to reemployment, retirement decisions, and the personal struggles they confront.
ISBN
9780880995078 (pbk.) ; 9780880995085 (ebook)
Subject Areas
LABOR MARKET ISSUES; Job security and unemployment dynamics; Dislocated workers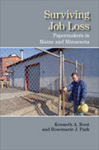 Included in
COinS
Citation
Root, Kenneth A. and Rosemarie J. Park. 2016. Surviving Job Loss: Paper Makers in Maine and Minnesota. Kalamazoo, MI: W.E. Upjohn Institute for Employment Research. https://doi.org/10.17848/9780880995085
Creative Commons License


This work is licensed under a Creative Commons Attribution-NonCommercial-Share Alike 4.0 International License.