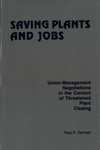 Publication Date
1-1-1987
DOI
10.17848/9780880995993
Abstract
Gerhart uses a case study approach to examine why plants become economically inviable as well as how to prevent this from happening prematurely.
Files
Download 2. The Economics of Plant Closure (575 KB)
Sponsorship
Financial support provided by the Upjohn Institute
ISBN
9780880990462 (pbk.) ; 9780880995993 (ebook)
Subject Areas
LABOR MARKET ISSUES; Employment relationships; Unions and collective bargaining; Job security and unemployment dynamics; Dislocated workers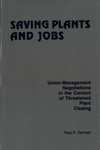 Included in
COinS
Citation
Gerhart, Paul F. 1987. Saving Plants and Jobs: Union-Management Negotiations in the Context of Threatened Plant Closing. Kalamazoo, MI: W.E. Upjohn Institute for Employment Research. https://doi.org/10.17848/9780880995993
Creative Commons License


This work is licensed under a Creative Commons Attribution-NonCommercial-Share Alike 4.0 International License.