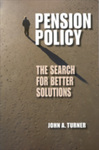 Publication Date
12-11-2009
DOI
10.17848/9780880994781
Abstract
Turner identifies the current problems facing pension policy for U.S. employer-provided pension plans and recommends solutions to those problems based on his examination of pension systems in other industrialized nations.
Files
Download 1. Introduction to Pension Policy (317 KB)
ISBN
9780880993555 (cloth) ; 9780880993548 (pbk.) ; 9780880994781 (ebook)
Subject Areas
LABOR MARKET ISSUES; Retirement and pensions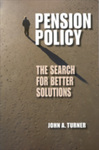 Included in
COinS
Creative Commons License


This work is licensed under a Creative Commons Attribution-NonCommercial-Share Alike 4.0 International License.