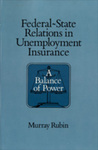 Publication Date
1-1-1983
DOI
10.17848/9780880995658
Abstract
Examines the extent to which the federal-state balance of power has contributed to the success of America's UI system.
ISBN
9780880990134 (cloth) ; 9780880990127 (pbk.) ; 9780880995658 (ebook)
Subject Areas
UNEMPLOYMENT, DISABILITY, and INCOME SUPPORT PROGRAMS; Unemployment insurance; Benefit financing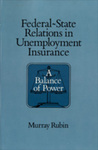 Included in
COinS
Citation
Rubin, Murray. 1983. Federal-State Relations in Unemployment Insurance: A Balance of Power. Kalamazoo, MI: W.E. Upjohn Institute for Employment Research. https://doi.org/10.17848/9780880995658
Creative Commons License


This work is licensed under a Creative Commons Attribution-NonCommercial-Share Alike 4.0 International License.