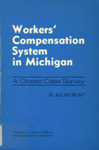 Publication Date
1-1-1982
DOI
10.17848/9780880996167
Abstract
Provides a data base for analysis of workers' comp issues in Michigan, and offers a comparison between cases from insured and self-insured employers.
Files
Download 1. Michigan Closed Case Survey Origins and Technical Description (1.4 MB)
ISBN
9780880990059 (pbk.) ; 9780880996167 (ebook)
Subject Areas
ECONOMIC DEVELOPMENT; Regional policy and planning; Michigan studies; UNEMPLOYMENT, DISABILITY, and INCOME SUPPORT PROGRAMS; Workers compensation and disability; Benefits and financing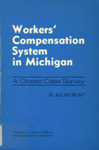 Included in
COinS
Citation
Hunt, H. Allan. 1982. Workers' Compensation System in Michigan: A Closed Case Survey. Kalamazoo, MI: W.E. Upjohn Institute for Employment Research. https://doi.org/10.17848/9780880996167
Creative Commons License


This work is licensed under a Creative Commons Attribution-NonCommercial-Share Alike 4.0 International License.