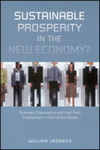 Publication Date
9-30-2009
DOI
10.17848/9781441639851
Abstract
Lazonick explores the origins of the new era of employment insecurity and income inequality, and considers what governments, businesses, and individuals can do about it. He also asks whether the United States can refashion its high-tech business model to generate stable and equitable economic growth.
Files
Download 1. What is New, and Permanent, about the 'New Economy'? (249 KB)
ISBN
9780880993517 (cloth) ; 9780880993500 (pbk.) ; 9781441639851 (ebook)
Subject Areas
LABOR MARKET ISSUES; Retirement and pensions; INTERNATIONAL ISSUES; Globalization; Offshoring; ECONOMIC DEVELOPMENT; Industry studies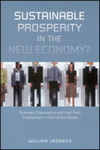 Included in
COinS
Citation
Lazonick, William. 2009. Sustainable Prosperity in the New Economy?: Business Organization and High-Tech Employment in the United States. Kalamazoo, MI: W.E. Upjohn Institute for Employment Research. https://doi.org/10.17848/9781441639851
Creative Commons License


This work is licensed under a Creative Commons Attribution-NonCommercial-Share Alike 4.0 International License.