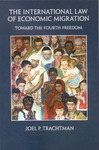 Publication Date
9-30-2009
DOI
10.17848/9781446319789
Abstract
This volume examines the welfare economics, political economy, and legal experience in international economic migration, and on the basis of its analysis, suggests the structure of a multilateral framework agreement on international economic migration.
ISBN
9780880993494 (cloth) ; 9780880993487 (pbk.) ; 9781446319789 (ebook)
Subject Areas
INTERNATIONAL ISSUES; Immigration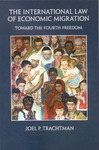 Included in
COinS
Citation
Trachtman, Joel P. 2009. The International Law of Economic Migration: Toward the Fourth Freedom. Kalamazoo, MI: W.E. Upjohn Institute for Employment Research. https://doi.org/10.17848/9781446319789
Creative Commons License


This work is licensed under a Creative Commons Attribution-NonCommercial-Share Alike 4.0 International License.