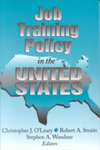 Upjohn Author ORCID Identifier
Publication Date
1-1-2004
DOI
10.17848/9781417549993
Abstract
This book provides a broad overview of federally funded job training programs as they exist today. The notable list of contributors review what training consists of and how training programs are implemented under WIA. In particular, they examine training service providers and methods of delivering training services, including the use of individual training accounts and eligible training provider lists. Performance management under WIA is examined, as well as the effectiveness of training programs. In addition, public training programs are compared to private training provided in the United States and to public training programs offered in other industrial nations.
Files
Download 1. U.S. Job Training: Types, Participants, and History / Christopher J. O'Leary, Robert A. Straits, Stephen A. Wandner (230 KB)
Download 2. Performance Management of U.S. Job Training Programs / Burt S. Barnow, Jeffrey A. Smith (275 KB)
Download 3. The Effectiveness of Publicly Financed Training in the United States: Implications for WIA and Related Programs / Christopher T. King (306 KB)
Download 4. Implementation Issues in Delivering Training Services to Adults under WIA / Ronald D'Amico, Jeffrey Salzman (277 KB)
Download 5. The Use of Service Providers and Brokers/Consultants in Employment and Training Programs / Janet O. Javar, Stephen A. Wandner (298 KB)
Download 6. Individual Training Accounts, Eligible Training Provider Lists and Consumer Reporting Systems / Paul Decker, Irma Perez-Johnson (269 KB)
Download 7. The Scope of Employer-Provided Training in the United States: Who, What, Where, and How Much? / Robert I. Lerman, Signe-Mary Mckernan, Stephanie Riegg (264 KB)
Download 8. International Experience with Job Training: Lessons for the United States / Lori G. Kletzer, William L. Koch (297 KB)
Download 9. Public Job Training: Experience and Prospects / Christopher J. O'Leary, Robert A. Straits, Stephen A. Wandner (234 KB)
Note
Papers presented at a conference jointly sponsored by the W.E. Upjohn Institute for Employment Research and the U.S. Dept. of Labor, held in Sept. 2002 at Brook Lodge, Augusta, Michigan
ISBN
9780880993074 (cloth) ; 9780880993067 (pbk.) ; 9781417549993 (ebook)
Subject Areas
UNEMPLOYMENT, DISABILITY, and INCOME SUPPORT PROGRAMS; Unemployment insurance; WORKFORCE DEVELOPMENT; Labor exchange; Public training programs; WIA, JTPA, and CETA; On the job training; Incumbent worker training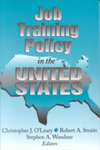 Included in
COinS
Citation
O'Leary, Christopher J., Robert A. Straits, and Stephen A. Wandner, eds. 2004. Job Training Policy in the United States. Kalamazoo, MI: W.E. Upjohn Institute for Employment Research. https://doi.org/10.17848/9781417549993
Creative Commons License


This work is licensed under a Creative Commons Attribution-NonCommercial-Share Alike 4.0 International License.