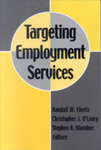 Publication Date
1-1-2002
DOI
10.17848/9781417524440
Abstract
This book offers a thorough overview of the U.S. experience with targeting reemployment services and self-employment assistance to UI beneficiaries most likely to exhaust benefits. The authors also suggest other programs that might benefit from targeting, examine Canadian efforts at targeting reemployment services, and consider prospects for a new Frontline Decision Support System for one-stop centers.
Files
Download 1. Targeting Employment Services under the Workforce Investment Act / Stephen A. Wandner (184 KB)
Download 2. Predicting the Exhaustion of Unemployment Compensation / Robert B. Olsen, Marisa Kelso, Paul T. Decker, and Daniel H. Klepinger ; comments by Mark C. Berger (210 KB)
Download 3. Evaluation of WPRS Systems / Katherine P. Dickinson, Paul T. Decker, and Suzanne D. Kreutzer ; comments by John Heinberg, Walter Nicholson (187 KB)
Download 4. A Panel Discussion on the WPRS System / Pete Fleming, Al Jaloviar, Helen Parker, and Marc Perrett ; comments by David E. Balducchi (169 KB)
Download 5. Profiling in Self-Employment Assistance Programs / Jon C. Messenger, Carolyn Peterson-Vaccaro, and Wayne Vroman ; comments by Jacob M. Benus, Wayne Gordon (228 KB)
Download 6. Targeting Reemployment Bonuses / Christopher J. O'Leary, Paul T. Decker, and Stephen A. Wandner ; comments by Jennifer Warlick (183 KB)
Download 7. Measures of Program Performance and the Training Choices of Displaced Workers / Louis Jacobson, Robert LaLonde, and Daniel Sullivan ; comments by Kevin Hollenbeck (196 KB)
Download 8. Using Statistical Assessment Tools to Target Services to Work First Participants / Randall W. Eberts (204 KB)
Download 9. Targeting Job Retention Services for Welfare Recipients / Anu Rangarajan, Peter Schochet, and Dexter Chu ; comments by Timothy J. Bartik, Don Oellerich (206 KB)
Download 10. Targeting Reemployment Services in Canada / Terry Colpitts ; comments by Jeffrey Smith (1.3 MB)
Download 11. Predicting Long-Term Unemployment in Canada: Prospects and Policy Implications / Ging Wong, Harold Henson, and Arun Roy ; comments by Jeffrey Smith (724 KB)
Download 12. A Frontline Decision Support System for One-Stop Centers / Randall W. Eberts, Christopher J. O'Leary, and Kelly J. DeRango ; comments by Helen Parker (406 KB)
Download 13. A Panel Discussion on the Experience and Future Plans of States / Rich Hobbie, Jim Finch, Chuck Middlebrooks, and Jack Weidenbach (144 KB)
Note
Proceedings from a conference held on April 29 to May 1, 1999 in Kalamazoo, Michigan
ISBN
9780880992442 (cloth) ; 9780880992435 (pbk.) ; 9781417524440 (ebook)
Subject Areas
WORKFORCE DEVELOPMENT; Public training programs; Job skills and standards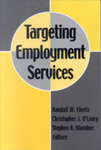 Included in
COinS
Citation
Eberts, Randall W., Christopher J. O'Leary, and Stephen A. Wandner, eds. 2002. Targeting Employment Services. Kalamazoo, MI: W.E. Upjohn Institute for Employment Research. https://doi.org/10.17848/9781417524440
Creative Commons License


This work is licensed under a Creative Commons Attribution-NonCommercial-Share Alike 4.0 International License.