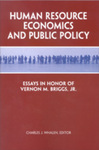 Publication Date
11-30-2009
DOI
10.17848/9781441635983
Abstract
This book pays tribute to Vernon Briggs and his enduring mark on the study of human resources. The chapters, by his students and colleagues, explore and extend Briggs's work on employment, education and training, immigration, and local labor markets. His unwavering emphasis on institutional reality, public policy, and economic dynamics animates the entire collection.
Files
Download 1. Introduction / Charles J. Whalen (224 KB)
Download 2. Vernon Briggs: Real-World Labor Economist / William P. Curington (212 KB)
Download 3. The Human Resources Economics of Vernon Briggs / Charles J. Whalen (230 KB)
Download 4. Immigration and the U.S. Labor Market / Philip L. Martin (237 KB)
Download 5. Assessing the Briggs Approach to Political Refugee Policy / Larry Nackerud (220 KB)
Download 6. Training and Immigration in the Real World / Ernesto Cortés Jr. (198 KB)
Download 7. Immigration Policy and Economic Development / James T. Peach (214 KB)
Download 8. Employment and Wage Prospects of Black, White, and Hispanic Women / Marta Tienda, V. Joseph Hotz, Avner Ahituv, and Michelle Bellessa Frost (338 KB)
Download 9. The Misdirected Debate over the Economics of Disabilities Accommodation / Seth D. Harris (233 KB)
Download 10. Learning Systems for a Globalized Economy: Do Americans Face Tough Choices or Tough Times? / Ray Marshall (292 KB)
Download 11. Sectoral Approaches to Workforce Development: Toward an Effective U.S. Labor-Market Policy / Robert W. Glover and Christopher T. King (289 KB)
ISBN
9780880993616 (cloth) ; 9780880993593 (pbk.) ; 9781441635983 (ebook)
Subject Areas
LABOR MARKET ISSUES; INTERNATIONAL ISSUES; Immigration; WORKFORCE DEVELOPMENT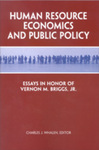 COinS
Citation
Whalen, Charles J., ed. 2010. Human Resource Economics and Public Policy: Essays in Honor of Vernon M. Briggs Jr. Kalamazoo, MI: W.E. Upjohn Institute for Employment Research. https://doi.org/10.17848/9781441635983
Creative Commons License


This work is licensed under a Creative Commons Attribution-NonCommercial-Share Alike 4.0 International License.