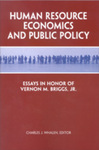 Title
Human Resource Economics and Public Policy: Essays in Honor of Vernon M. Briggs Jr.
DOI
10.17848/9781441635983
Abstract
This book pays tribute to Vernon Briggs and his enduring mark on the study of human resources. The chapters, by his students and colleagues, explore and extend Briggs's work on employment, education and training, immigration, and local labor markets. His unwavering emphasis on institutional reality, public policy, and economic dynamics animates the entire collection.
ISBN
9780880993616 (cloth) ; 9780880993593 (pbk.) ; 9781441635983
Subject Areas
LABOR MARKET ISSUES; INTERNATIONAL ISSUES; Immigration; WORKFORCE DEVELOPMENT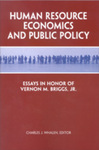 COinS
Citation
Whalen, Charles J., ed. 2010. Human Resource Economics and Public Policy: Essays in Honor of Vernon M. Briggs Jr. Kalamazoo, MI: W.E. Upjohn Institute for Employment Research. https://doi.org/10.17848/9781441635983