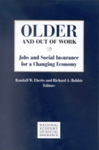 Upjohn Author ORCID Identifier
Publication Date
8-29-2008
DOI
10.17848/9781435667419
Abstract
The chapters in this volume, originally presented at a conference organized by the National Academy of Social Insurance, come from a group of policy experts who advance our understanding of the labor market experiences of older workers while pointing out that current workforce programs often leave this growing population underserved.
Files
Download 1. Introduction / Randall W. Eberts and Richard A. Hobbie (284 KB)
Download 2. The Consequences of Recent Job Growth on Older Low-Income Workers / William M. Rodgers III (358 KB)
Download 3. Age Discrimination and Hiring: Evidence from a Labor Market Experiment / Joanna N. Lahey (263 KB)
Download 4. Reemployment and Earnings Recovery among Older Unemployment Insurance Claimants / Christopher J. O'Leary and Randall W. Eberts (375 KB)
Download 5. The Fraction of Disability Caused at Work / Robert T. Reville and Robert F. Schoeni (254 KB)
Download 6. Disability and Retirement among Aging Baby Boomers / Ralph E. Smith (307 KB)
Download 7. Health Coverage for Aging Baby Boomers: Findings from the Commonwealth Fund Survey of Older Adults / Sara R. Collins, Karen Davis, Cathy Schoen, Michelle M. Doty, and Jennifer L. Kriss (449 KB)
Download 8. Improving Health Coverage before Medicare / Paul N. Van de Water (240 KB)
Download 9. Time to Retire the Normal Retirement Age? / Joseph White (274 KB)
Download 10. Public and Private Strategies for Assisting Older Workers / Carl Van Horn, Kathy Krepcio, and Neil Ridley (265 KB)
Note
Collection of selected papers presented at the 18th Annual Conference of the National Academy of Social Insurance (NASI) on January 19-20, 2006 in Washington, D.C.
ISBN
9780880993302 (cloth) ; 9780880993296 (pbk.) ; 9781435667419 (ebook)
Subject Areas
LABOR MARKET ISSUES; Job security and unemployment dynamics; Dislocated workers; Retirement and pensions; UNEMPLOYMENT, DISABILITY, and INCOME SUPPORT PROGRAMS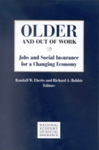 Included in
COinS
Citation
Eberts, Randall W., and Richard A. Hobbie, eds. 2008. Older and Out of Work: Jobs and Social Insurance for a Changing Economy. Kalamazoo, MI: W.E. Upjohn Institute for Employment Research. https://doi.org/10.17848/9781435667419
Creative Commons License


This work is licensed under a Creative Commons Attribution-NonCommercial-Share Alike 4.0 International License.