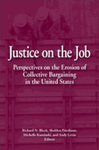 Publication Date
8-18-2006
DOI
10.17848/9781429454827
Abstract
This volume presents an influential group of researchers who examine the current state of workers' freedom to form unions and bargain collectively. All of the researchers present empirical evidence to support their innovative ideas for advancing workers' rights.
Files
Download 1. An Introduction to the Current State of Workers' Rights / Richard N. Block, Sheldon Friedman, Michelle Kaminski, and Andy Levin (326 KB)
Download 2. A Logical Extreme: Proposing Human Rights as the Foundation for Workers' Rights in the United States / James A. Gross (305 KB)
Download 3. International Elections Standards and NLRB Representation Elections / David L. Cingranelli (293 KB)
Download 4. Collective Bargaining Rights in the Public Sector: Promises and Reality / Donald S. Wasserman (316 KB)
Download 5. Significant Victories: An Analysis of Union First Contracts / Tom Juravich, Kate Bronfenbrenner, and Robert Hickey (362 KB)
Download 6. Bad Service Jobs: Can Unions Save Them? Can They Save Unions? / Laura Dresser and Annette Bernhardt (312 KB)
Download 7. Dancing with the Smoke Monster: Employer Motivations for Negotiating Neutrality and Card Check Agreements / Adrienne E. Eaton and Jill Kriesky (310 KB)
Download 8. Supreme Court Supervisory Status Decisions: The Impact on the Organizing of Nurses / Steven E. Abraham, Adrienne E. Eaton, and Paula B. Voos (331 KB)
Download 9. Law and Collective Bargaining Power: An Experiment to Test Labor Law Reform Proposals / Gangaram Singh and Ellen Dannin (308 KB)
Download 10. America's Union-Free Movement in Light of International Human Rights Standards / Roy J. Adams (291 KB)
Download 11. The United States and ILO Conventions 87 and 98: The Freedom of Association and the Right to Bargain Collectively / Richard McIntyre and Matthew M. Bodah (302 KB)
Download 12. Members-Only Collective Bargaining: A Back-to-Basics Approach to Union Organizing / Charles J. Morris (331 KB)
Download 13. The Commercial Temp Agency, the Union Hiring Hall, and the Contingent Workforce: Toward a Legal Reclassification of For-Profit Labor Market Intermediaries / Harris Freeman and George Gonos (338 KB)
Download 14. No More Business as Usual: Using Pension Activism to Protect Workers' Rights / Jayne Elizabeth Zanglein (320 KB)
ISBN
9780880992794 (cloth) ; 9780880992787 (pbk.) ; 9781429454827 (ebook)
Subject Areas
LABOR MARKET ISSUES; Employment relationships; Unions and collective bargaining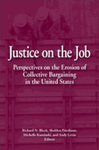 Included in
COinS
Citation
Block, Richard N., Sheldon Friedman, Michelle Kaminski, and Andy Levin, eds. 2006. Justice on the Job: Perspectives on the Erosion of Collective Bargaining in the United States. Kalamazoo, MI: W.E. Upjohn Institute for Employment Research. https://doi.org/10.17848/9781429454827
Creative Commons License


This work is licensed under a Creative Commons Attribution-NonCommercial-Share Alike 4.0 International License.