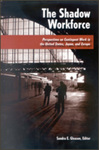 Publication Date
11-29-2006
DOI
10.17848/9781429454889
Abstract
This book provides a comprehensive overview of the state of nonstandard employment and its impact on employees, businesses, unions, and public policy. It not only reveals how nonstandard employment operates in the United States, Japan, and Europe, it also highlights the important similarities and differences in the labor market issues faced in those areas.
Files
Download 1. Introduction / Sandra E. Gleason (379 KB)
Download 2. Operationalizing the Shadow Workforce: Toward an Understanding of the Participants in Nonstandard Employment Relationships / Courtney von Hippel, Venkat Bendapudi, Judith Tansky, David B. Greenberger, Stephen L. Mangum, and Robert L. Heneman (301 KB)
Download 3. Employer Perspectives: Competing through a Flexible Workforce / Douglas J. Miller and Jay B. Barney (299 KB)
Download 4. Union Responses to the Challenges of Contingent Work Arrangements / M. Catherine Lundy, Karen Roberts, and Douglas Becker (366 KB)
Download 5. No Safe Harbor: A Review of Significant Laws Affecting Contingent Workers / Thomas A. Coens and Alvin L. Storrs (313 KB)
Download 6. Public Policy and Contingent Workers / Jeffrey B. Wenger (357 KB)
Download 7. Japan's Growing Shadow Workforce / Cynthia Ozeki and Akira Wakisaka (344 KB)
Download 8. Employment Policies and Labor Union Activities for Part-Time Workers and Dispatched Workers in Japan / Kazunari Honda (302 KB)
Download 9. Temporary Agency Work in Europe / François Michon (311 KB)
Download 10. Where Do We Go from Here? / Sandra E. Gleason (329 KB)
ISBN
9780880992893 (cloth) ; 9780880992886 (pbk.) ; 9781429454889 (ebook)
Subject Areas
LABOR MARKET ISSUES; Employment relationships; Nonstandard work arrangements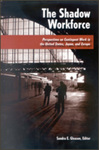 Included in
COinS
Citation
Gleason, Sandra E., ed. 2006. The Shadow Workforce: Perspectives on Contingent Work in the United States, Japan, and Europe. Kalamazoo, MI: W.E. Upjohn Institute for Employment Research. https://doi.org/10.17848/9781429454889
Creative Commons License


This work is licensed under a Creative Commons Attribution-NonCommercial-Share Alike 4.0 International License.