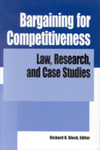 Publication Date
1-1-2003
DOI
10.17848/9780585469652
Abstract
This book offers an analysis of the relationship among collective bargaining, firm competitiveness, and employment protections and creation in the United States. The contributors provide an overview of the legal framework and the economic and industrial relations research on collective bargaining, competitiveness, and employment, then follow with four case studies that provide insights into the process of collective bargaining and its current status in the evolving U.S. labor-management system.
Files
Download 1. Collective Bargaining in Context / Richard N. Block and Peter Berg (134 KB)
Download 2. Competitiveness and Employment Protection and Creation / Richard N. Block (153 KB)
Download 3. The Impact of Collective Bargaining on Competitiveness and Employment / Dale Belman and Richard N. Block (153 KB)
Download 4. Case Study Methodology / Richard N. Block (101 KB)
Download 5. Basic Aluminum / Richard N. Block (219 KB)
Download 6. Auto Assembly / Richard N. Block and Peter Berg (187 KB)
Download 7. Automobile Parts / Michael L. Moore and Richard N. Block (185 KB)
Download 8. Health Care / Michael J. Polzin and Peter Berg (117 KB)
Download 9. Overview and Conclusions / Richard N. Block (104 KB)
ISBN
9780880992626 (cloth) ; 9780880992619 (pbk.) ; 9780585469652 (ebook)
Subject Areas
LABOR MARKET ISSUES; Employment relationships; Unions and collective bargaining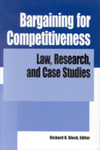 COinS
Citation
Block, Richard N., ed. 2003. Bargaining for Competitiveness: Law, Research, and Case Studies. Kalamazoo, MI: W.E. Upjohn Institute for Employment Research. https://doi.org/10.17848/9780585469652
Creative Commons License


This work is licensed under a Creative Commons Attribution-NonCommercial-Share Alike 4.0 International License.