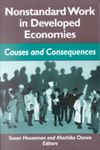 Upjohn Author ORCID Identifier
Publication Date
1-1-2003
DOI
10.17848/9781417505326
Abstract
This book reveals the considerable variation in the levels of growth in a broad set of nonstandard work arrangements while presenting a comprehensive view of how, as a result, the nature of the employment relationship is changing within and among countries. The international roster of economists, sociologists, and labor law experts who contributed draw on cross-country variations in economic conditions and institutional characteristics to explain why some arrangements have grown faster in some countries than in others and what this means for workers. By considering a broad array of nonstandard work arrangements in a number of economies, the authors provide a richer understanding than if the focus had been limited to a single country of one or a short-list of employment arrangements.
Files
Download 1. Introduction / Susan Houseman, Machiko Osawa (211 KB)
Download 2. The Change in Work Arrangements in Denmark and Germany: Erosion or Renaissance of Standards? / Edeltraud Hoffmann and Ulrich Walwei (256 KB)
Download 3. Regulatory Convergence?: Nonstandard Work in the United Kingdom and the Netherlands / Colette Fagan (241 KB)
Download 4. Nonstandard Work in Italy and Spain: The Quest for Flexibility at the Margin in Two Supposedly Rigid Labor Markets / Inmaculada Cebrián, Gloria Moreno, Manuela Samek, Renata Semenza, Luis Toharia (271 KB)
Download 5. Nonstandard Work Arrangements in France and the United States / Françoise Carré (287 KB)
Download 6. The Growth of Nonstandard Employment in Japan and the United States: A Comparison of Causes and Consequences / Susan Houseman, Machiko Osawa (301 KB)
Download 7. Employment Choices and Pay Differences between Nonstandard and Standard Work in Britain, Germany, the Netherlands, and Sweden / Siv Gustafsson, Eiko Kenjoh, Cécile Wetzels (275 KB)
Download 8. Standard and Nonstandard Work Arrangements, Pay Difference, and Choice of Work by Japanese Mothers / Nobuko Nagase (270 KB)
Download 9. Work Arrangements Among Women in the United States / Naomi Cassirer (256 KB)
Download 10. In Search of a New Framework for Flexibility: Reregulation of Nonstatndard Employment in the European Union / Isabelle Schömann, Klaus Schömann (244 KB)
Download 11. Nonstandard Work Arrangements in Japan and the United States: A Legal Perspective / Noriaki Kojima and Keiko Fujikawa (246 KB)
Download 12. Work Attitudes and Nonstandard Work Arrangements in the United States, Japan, and Europe / Arne L. Kalleberg, Jeremy Reynolds (283 KB)
Note
These papers were originally presented at a conference sponsored by the Japan Foundation and the W.E. Upjohn Institute for Employment Research in August 2000
ISBN
9780880992640 (cloth) ; 9780880992633 (pbk.) ; 9781417505326 (ebook)
Subject Areas
LABOR MARKET ISSUES; Employment relationships; Nonstandard work arrangements; Temporary employment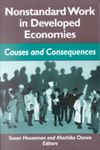 Included in
COinS
Citation
Houseman, Susan, and Machiko Osawa, eds. 2003. Nonstandard Work in Developed Economies: Causes and Consequences. Kalamazoo, MI: W.E. Upjohn Institute for Employment Research. https://doi.org/10.17848/9781417505326
Creative Commons License


This work is licensed under a Creative Commons Attribution-NonCommercial-Share Alike 4.0 International License.