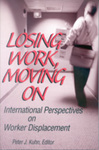 Publication Date
1-1-2002
DOI
10.17848/9781417505333
Abstract
This volume presents a collaborative effort by 22 labor economists who examine worker displacement and the attempts to address it in 10 industrialized countries. Using large nationally-representative data sets and detailed policy analysis, the authors focus on two key questions related to worker displacement: 1) whether the experiences of displaced workers in the Untied States, and the patterns of experiences across workers, echo patterns seen in other developed countries, and 2) what can be learned, both from the similarities and from the differences across countries?
Files
Download 1. Summary and Synthesis / Peter J. Kuhn (346 KB)
Download 2. Displaced Workers in the United States and the Netherlands / Jaap H. Abbring, Gerard J. van den Berg, Pieter A. Gautier, A. Gijsbert C. van Lomwel, Jan C. van Ours, Christopher J. Ruhm (365 KB)
Download 3. Worker Displacement in Japan and Canada / Masahiro Abe, Yoshio Higuchi, Peter Kuhn, Masao Nakamura, Arthur Sweetman (490 KB)
Download 4. They Get Knocked Down. Do They Get Up Again? / Jeff Borland, Paul Gregg, Genevieve Knight, Jonathan Wadsworth (250 KB)
Download 5. Worker Displacement in France and Germany / Stefan Bender, Christian Dustmann, David Margolis, Costas Meghir (406 KB)
Download 6. Employment Protection and the Consequences for Displaced Workers / Karsten Albaek, Marc Van Audenrode, Martin Browning (173 KB)
ISBN
9780880992343 (cloth) ; 9781417505333 (ebook)
Subject Areas
LABOR MARKET ISSUES; Job security and unemployment dynamics; Dislocated workers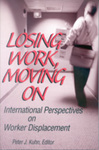 Included in
COinS
Citation
Kuhn, Peter J., ed. 2002. Losing Work, Moving On: International Perspectives on Worker Displacement. Kalamazoo, MI: W.E. Upjohn Institute for Employment Research. https://doi.org/10.17848/9781417505333
Creative Commons License


This work is licensed under a Creative Commons Attribution-NonCommercial-Share Alike 4.0 International License.