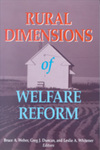 Publication Date
1-1-2002
DOI
10.17848/9781417508884
Abstract
This volume presents a comprehensive look at how welfare reforms enacted in 1996 are affecting caseloads, employment, earnings, and family well-being in rural areas.
Files
Download Introduction: As the Dust Settles: Welfare Reform and Rural America / Leslie A. Whitener, Bruce A. Weber, Greg Duncan (446 KB)
Download 1. Approaching the Limit: Early National Lessons from Welfare Reform / Sheldon Danziger (193 KB)
Download 2. Rural Labor Markets in an Era of Welfare Reform / Robert M. Gibbs (1.1 MB)
Download 3. Rural America in Transition: Poverty and Welfare at the Turn of the Twenty-First Century / Daniel T. Lichter, Leif Jensen (1019 KB)
Download 4. Reducing Food Stamp and Welfare Caseloads in the South: Are Rural Areas Less Likely to Succeed than Urban Centers? / Mark Henry, Lynn Reinschmiedt, Willis Lewis, Darren Hudson (496 KB)
Download 5. Seasonal Employment Dynamics and Welfare Use in Agricultural and Rural California Counties / Henry E. Brady, Mary Sprague, Fredric C. Gey, Michael Wiseman (798 KB)
Download 6. Location and the Low-Income Experience: Analyses of Program Dynamics in the Iowa Family Investment Program / Helen H. Jensen, Shao-Hsun Keng, Steven Garasky (191 KB)
Download 7. Small Towns and Welfare Reform: Iowa Case Studies of Families and Communities / Cynthia Needles Fletcher, Jan L. Flora, Barbara J. Gaddis, Mary Winter, Jacquelyn S. Litt (210 KB)
Download 8. Where all the Counties are above Average: Human Service Agency Directors' Perspectives on Welfare Reform / Ann Tickamyer, Julie White, Barry Tadlock, Debra Henderson (223 KB)
Download 9. The Impact of Welfare Policy on the Employment of Single Mothers Living in Rural and Urban Areas / Signe-Mary McKernan, Robert Lerman, Nancy Pindus, Jesse Valente (218 KB)
Download 10. Welfare Reform in Rural Minnesota: Experimental Findings from the Minnesota Family Investment Program / Lisa A. Gennetian, Cindy Redcross, and Cynthia Miller (229 KB)
Download 11. Will Attainable Jobs be Available for TANF Recipients in Local Labor Markets? Evidence from Mississippi on Prospects for "Job-Skill Matching" of TANF Adults / Frank M. Howell (732 KB)
Download 12. Whose Job Is It? Employers' Views on Welfare Reform / Ellen Shelton, Greg Owen, Amy Bush Stevens, Justine Nelson-Christinedaughter, Corinna Roy, June Heineman (168 KB)
Download 13. The Short-Term Impacts of Welfare Reform in Persistently Poor Rural Areas / Mark Harvey, Gene F. Summers, Kathleen Pickering, Patricia Richards (506 KB)
Download 14. Food Stamps in Rural America: Special Issues and Common Themes / Sheena McConnell, James Ohls (145 KB)
Download 15. The Decline in Food Stamp Use by Rural Low-Income Households: Less Need or Less Access? / Mark Nord (153 KB)
Download 16. Lessons Learned: Welfare Reform and Food Assistance in Rural America / Greg Duncan, Leslie A. Whitener, Bruce A. Weber (137 KB)
Note
This book presents revised versions of about half of the papers presented at a conference on the title topic held in Washington, D.C., May 2000
ISBN
9780880992404 (cloth) ; 9780880992398 (pbk.) ; 9781417508884 (ebook)
Subject Areas
UNEMPLOYMENT, DISABILITY, and INCOME SUPPORT PROGRAMS; Poverty and income support; Income support programs; Low wage labor markets; WORKFORCE DEVELOPMENT; Public training programs; Welfare to work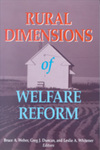 Included in
COinS
Citation
Weber, Bruce A., Greg J. Duncan, and Leslie A. Whitener, eds. 2002. Rural Dimensions of Welfare Reform. Kalamazoo, MI: W.E. Upjohn Institute for Employment Research. https://doi.org/10.17848/9781417508884
Creative Commons License


This work is licensed under a Creative Commons Attribution-NonCommercial-Share Alike 4.0 International License.