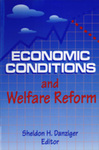 Publication Date
1-1-1999
DOI
10.17848/9780585241043
Abstract
The relationship between welfare caseloads and the economy is one of the key issues addressed in this book. Using the most current data available, a group of the nation's leading researchers examines the effects of welfare reform prior to and after enactment of the 1996 Personal Responsibility and Work Opportunity Reconciliation Act (PRWORA).
Files
Download 1. Introduction / Sheldon Danziger (930 KB)
Download 2. Welfare Reform, the Business Cycle, and the Decline of AFDC Caseloads / David N. Figlio and James P. Ziliak (1.8 MB)
Download 3. What Goes Up Must Come Down? / Geoffrey Wallace, Rebecca M. Blank (2.1 MB)
Download 4. The Effect of Pre-PRWORA Waivers on AFDC Caseloads and Female Earnings, Income, and Labor Force Behavior / Robert A. Moffitt (1.5 MB)
Download 5. Examining the Effect of Industry Trends and Structure on Welfare Caseloads / Timothy J. Bartik, Randall W. Eberts (2.1 MB)
Download 6. Work, Earnings, and Well-Being after Welfare / Maria Cancian, Robert Haveman, Thomas Kaplan, Daniel Meyer, and Barbara Wolfe (1.6 MB)
Download 7. Employer Demand for Welfare Recipients and the Business Cycle / Harry J. Holzer (1.7 MB)
Download 8. What Will the States do When Jobs Are Not Plentiful? / LaDonna A. Pavetti (1.7 MB)
Download 9. Cyclical Welfare Costs in the Post-Reform Era / Phillip B. Levine (1.4 MB)
Download 10. The States, Welfare Reform, and the Business Cycle / Howard Chernick and Therese J. McGuire (1.7 MB)
Sponsorship
"Presented at a conference held in November 1998...funded by the Office of the Assistant Secretary for Planning and Evaluation (ASPE) at the Dept. of Health and Human Services"
ISBN
9780880992008 (cloth) ; 9780880991995 (pbk.) ; 9780585241043 (ebook)
Subject Areas
UNEMPLOYMENT, DISABILITY, and INCOME SUPPORT PROGRAMS; Poverty and income support; Income support programs; WORKFORCE DEVELOPMENT; Public training programs; Welfare to work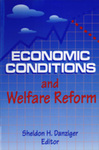 Included in
COinS
Creative Commons License


This work is licensed under a Creative Commons Attribution-NonCommercial-Share Alike 4.0 International License.