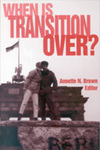 Title
Publication Date
1-1-1999
DOI
10.17848/9780585282978
Abstract
The transition process in which a country moves from a planned economy to a market economy offers a unique opportunity for economists and policymakers to observe and understand the effects of major institutional, legal, and political changes on economic systems. But one feature of the process that has not been considered until now is when is the process over? When has a transition progressed far enough to ensure that a market system will survive and mature? Are there institutional, economic, and political standards that countries reach that measure the level of transition attained or, indeed, show that they have completed transition?
Files
Download Introduction / Annette N. Brown (569 KB)
Download 1. What is Still Missing? / Marie Lavigne (140 KB)
Download 2. The End of Transition? / Alan Gelb (104 KB)
Download 3. The End of Rent-Seeking / Anders Åslund (127 KB)
Download 4. China's Unfinished Economic Transition / Nicholas R. Lardy (160 KB)
Download 5. The Transition is Not Over, but Note the Merits of the Central European Model / Jan Švejnar (1.4 MB)
Download 6. Reforming the Welfare State in Postsocialist Economies / János Kornai (117 KB)
Note
Essays based on six presentations given at the 33rd Annual Lecture-Seminar Series of the Dept. of Economics at Western Michigan University, held during the 1997-1998 academic year. The lecture series is cosponsored by the Department and the W.E. Upjohn Institute for Employment Research.
ISBN
9780880991964 (cloth) ; 9780880991957 (pbk.) ; 9780585282978 (ebook)
Subject Areas
INTERNATIONAL ISSUES; International labor comparisons; Transition economies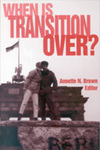 Included in
COinS
Creative Commons License


This work is licensed under a Creative Commons Attribution-NonCommercial-Share Alike 4.0 International License.